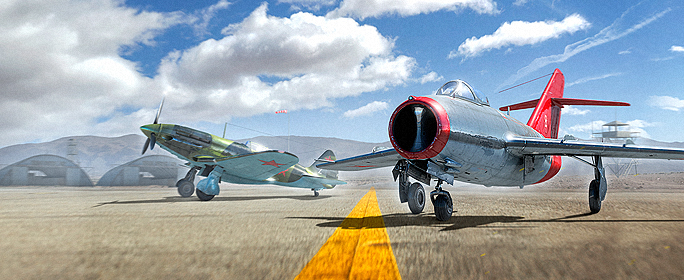 Pilots, Players, Plane enthusiasts,
It's time to get excited again for the next new update to World of Warplanes! Version 1.6 is preparing to land on your hard drive, bringing a 'plane-load' of new content for old and new fans of the game alike. Check out our detailed review in the article below and get ready to battle!


MiG Aircraft Line
Fans of Soviet aircraft will be able to rejoice over the introduction of the first branch of legendary MiG fighters. Starting at Tier V with the early, still Yak-inspired MiG-3, and going all the way through to Tier X with the high-flying MiG-15bis, this new line offers new grinding opportunities for weeks to come as you fight, battle and conquer your way through this latest tech tree extension.
Five New Premium Aircraft

If you're looking to go on a trip around the world without ever having to leave your swivel chair, then you might want to give the five new Premium aircraft of Version 1.6 a try. Every one of our five nations got a new Premium contender, enlarging the plane pool by adding interesting, new models each with a unique flight style and gameplay personality. Learn everything on the coveted newcomers from the Soviet Yakovlev Yak-3RD in the East, to the sky-storming U.S. XP-75 Eagle in our dedicated Version 1.6 Premium Aircraft Introduction Overview!
New Class of Multi-Role Aircraft


| | | | |
| --- | --- | --- | --- |
| | | | |
| | UK | Germany | |
One of the most significant changes in Version 1.6 will be the introduction of a new plane class: the Multi-Role Fighters. As their name implies, aircraft pertaining to this group will be settled somewhere between fighters and heavy fighters in terms of their profile. Manoeuvrable enough to excel in dogfights, yet sturdy enough to carry high-penetration guns and projectiles, these aircraft will allow for a more flexible, hybrid game style instead of just focusing on one role in battle. Read our in-depth Introduction to the New Multi-Role Aircraft if you want to know more!
Interface Improvements and Map Extensions
As usual, the update also brings some finer, less noticeable new features that help improve the overall feel of the game from version to version. As such, Update 1.6 introduces an array of interface additions – be it an improved training room menu or the ability to switch between Premium hangars to your heart's content. And while there are no new maps in this update, our level design team has still kept busy, enlarging the popular 'El Halluf' battle arena to give you more ground to fight over in your low-to-mid tier battles.
And The Usual Fine Print…
While the main focus is clearly set on the introduction of new planes and the corresponding balancing, Version 1.6 also features a lot of 'under the hood' adjustments that will increase hardware performance and make controls more responsive and logical. Whether you're playing with gamepad, joystick or mouse, you will feel the benefits of these improvements as soon as you take place in your warbird's cockpit.


---
Follow up on all the previously released Version 1.6 content, by checking out the following dedicated articles from our continuously updated portal news coverage!
Take a look at the Release Notes section to see the full list of changes.
Enjoy the new version, pilots!