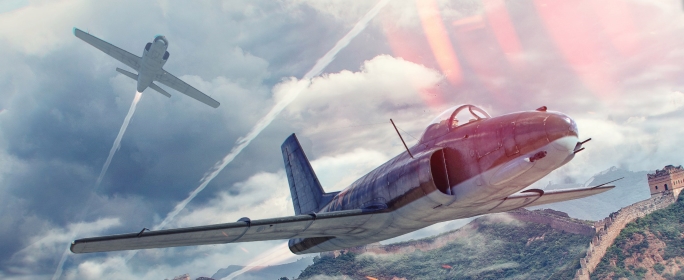 Pilots!
Have you ever looked at the Yak-3 and felt that it lacked something? A liquid-fuel rocket, to be specific? Well you're not the only ones. In 1945 Soviet engineers decided that this was exactly what was missing from the Yak, so they removed the machine guns from the wings, filled them with rocket fuel, and sent it out. Now they may have abandoned their project fairly quickly, but in World of Warplanes the Yak-3RD lives on. It is a fun little fighter which can outturn most of its rivals at Tier VII and outrun the ones which keep up in the dogfights. It goes without saying that as a premium plane, it is an excellent trainer for all your Soviet pilots.
Our second offer is even faster, though not propelled by a rocket: the JL-1A-37, a warplane based on the Chinese training jet aircraft JJ-1. The project never went beyond early designs and the JJ-1 was mothballed in favour of the MiG-15, but in World of Warplanes, this chinese Tier VIII fighter lets you boom and zoom to your heart's content. Not only that, but you can outrun or at least keep up with all of your rivals. As long as the boost lasts.
Do these sound fun to you? Then grab them with a nice discount in the Premium Shop from 15 May at 07:00 CEST until 29 May at 07:00 CEST (UTC+2).
JL-1A-37

Yak-3RD

Shenyang JL-1A-37, Chinese Tier VIII Fighter

3000

Premium Account: 30 Days
Hangar Slot

€42.99

30% Discount

€17.99

30% Discount
As always, don't forget that there are a lot more interesting deals for all Wargaming products waiting for you in our permanent offer collection in the Premium Shop.
Take to the skies, pilots!