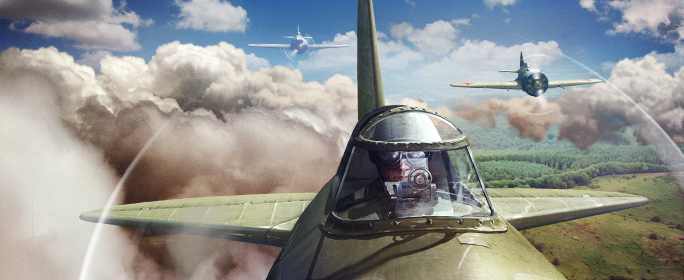 The first public test of World of Warplanes is now available.
What has been a longstanding practice in the development of World of Tanks now comes to World of Warplanes – the public test server! If you're looking to try out all the new features of the upcoming version before its official release, then the public test server is the place for you to be.
Not only is this a great opportunity to get a glimpse of the future of the game, but you will also be able to actively influence the final look of the update by providing valuable feedback to our developers. Through your help, they will be able to test the newly created features under life-like conditions and smooth out whatever rough edges still remain, based on the newest findings of the public test participants.
Main Features of the Test Version
Server-wide wipe to recreate release conditions
Transition to gold as the premium currency
XP accrual rate increased for all planes
Adjustments to optimum altitude, speed, durability and manoeuvrability of a number of select aircraft
Addition of new interface elements, gift camouflages and emblems
Improved hangar, battle-queue and in-battle performance
Minor bug fixes and sound improvements
How the Public Test Works
When it is time to run a public test, the developers will release a test version of the client. This can be downloaded by following the instructions below. Make sure that you follow all of the instructions carefully, so that you don't accidentally cause problems in your normal play account.
The test account is completely separate to your normal account. It will have a set of special rules for crediting experience, credits and gold. This will allow you to unlock all the contents of the game quicker, in order for you to be able to fully test the new features.
For testing purposes, your public test accounts will be completely wiped at first. Your entire research progress, along with credits and gold will be set to 0 when you first enter the test server. All the planes*, modules, equipment, ammunition and consumables that you may have unlocked on the regular World of Warplanes Open Beta server will be wiped as well.
Instead, each tester will begin with five Tier I starting planes (one from each nation). All the experience you've earned before October 22nd will be saved and evenly distributed between the pilots of those starting planes. Going forward, every new plane that you purchase will come with a 100% trained crew. For testing purposes, all players also get the planes from our pre-order packages, as well as planes that have only been available through bonus codes, with additional gold consumables (two ammunition belts of each type).
*Any eventual bonus planes such as the I-15bis DM or F2A-1 will also be available (if you had them before). If players sold their I-15bis DM within 3 days after it was initially gifted, the plane will still be there on the Public Test account.
All tokens will be replaced by gold and converted into premium account time. For your achievements in the game, you will be rewarded with gold. This gold is granted only for the duration of the test and does not carry over to your regular Wargaming account.
You will receive:
1,000 gold for the first victory of the day
5,000 gold for the 10th victory of the day
To further boost your progression, credits- and experience earnings will be significantly increased on the test server:
| Plane Tier | Experience multiplier | Credits multiplier |
| --- | --- | --- |
| 1 | x5 | x5 |
| 2 | x10 | x10 |
| 3 | x15 | x15 |
| 4 | x20 | x20 |
| 5 | x30 | x30 |
| 6 | x40 | x40 |
| 7 | x50 | x50 |
| 8 | x60 | x60 |
| 9 | x70 | x70 |
| 10 | x80 | x80 |
The progress achieved on the test server will not carry over to the regular Open Beta server.
Financial transactions are not possible on the test server and payments will not be accepted.
Public Test General Rules
Participation in the World of Warplanes Public Test is free. All players are eligible to take part in the public test as long as they registered before 22nd October 2013.
The test server will run daily from 15:00 CET (GMT+1) until 21:00 CET. We will communicate in advance when the testing period will be over and the public test will be closed.
How to Join the Public Test
Download the test client installer.
Make sure you pick a save location that is different to your regular World of Warplanes game files. Save and run the installer. (10.7 MB)
Run the new copy of the game. The launcher will download all the additional data (5.97 GB).

Log in and start playing. Remember to post your feedback to this

forum thread

.
Thank you for taking part in the public test. Good luck and have fun!