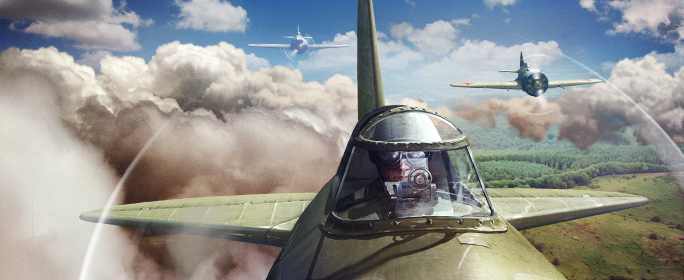 We're proud to announce the first iteration of the public test of Version 1.3. The newest update delivers a lot of new content such as the American heavy fighter branch, two new maps, new types of battle missions and a lot of helpful interface improvements. If you're looking to try out all the new features of the upcoming version before its official release, then the public test server is the place for you to be.
Not only is this a great opportunity to get a glimpse of the future of the game, but you will also be able to actively influence the final look of the update by providing valuable feedback to our developers. Through your help, they will be able to test the newly created features under life-like conditions and smooth out whatever rough edges still remain, based on the findings of the public test participants.
Main Features of the 1.3 Test Version
Please find the full list of changes in the Patch Notes section below.
How the Public Test Works
When it is time to run a public test, the developers will release a test version of the client. This can be downloaded by following the instructions below. Make sure that you follow all of the instructions carefully, so that you don't accidentally cause problems in your normal play account.
The test account is completely separate from your normal account. It will have a set of special rules for crediting experience, credits and gold. This will allow you to unlock all the contents of the game quicker, in order for you to be able to fully test the new features.
As such you will receive:
2,000 gold for your 1st victory of the day
5,000 gold for your 10th victory of the day
Additionally, the following multipliers will be applied on the public test server:
| Plane Tier | XP Multiplier | Credits Multiplier |
| --- | --- | --- |
| I | 5 | 5 |
| II | 10 | 10 |
| III | 15 | 15 |
| IV | 20 | 20 |
| V | 30 | 30 |
| VI | 40 | 40 |
| VII | 50 | 50 |
| VIII | 60 | 60 |
| IX | 70 | 70 |
| X | 35 | 35 |
Your test account will be a copy of your play account as it was on 2nd April 2014. This means that all planes purchased or researched on your regular account by this date will also be available on your public test account from the start.
Any progress achieved on the test server will not carry over to your regular World of Warplanes account.
Financial transactions are not possible on the test server and payments will not be accepted.
Public Test General Rules
Participation in the World of Warplanes Public Test is free. All players are eligible to take part in the public test as long as they registered before 2nd April 2014.
The test server will run all day long without interruptions or resets. We will communicate in advance when the testing period will be over and when the public test will be closed.
How to Join the Public Test
Download the test client installer.

Make sure you pick a save location that is different to your regular World of Warplanes game files. Save and run the installer (7.5 GB)

.

Run the new copy of the game. The launcher will download all the additional data

.

Log in and start playing. Remember to post your feedback to this

forum thread.
Thank you for taking part in the public test. Good luck and have fun!
Patch Notes
Changes between the 1st and the 2nd Public Test of Version 1.3:
In-game chat:
Added a loading animation when entering a channel

Added a small indicator, showing a chat participant's status (available, busy, afk, offline, etc.) in the header of your private chat with players or other people from your contact list

Adjusted the order of chat windows so that they're sorted by newest -> top, older -> below. Now chat windows won't be on top of every other hangar element anymore by default

Unified chat interface elements
Fixed several bugs in the chat interface:

Fixed an error that occurs when the window is resized or detached from the bottom panel

Fixed a bug that caused the disappearance of posts in the official channel after exiting a battle

Updated profanity-filter
Other fixes and improvements:
Fixed a bug which prevented the application of user-created client modifications from the "res_mods" folder. In order to make the modification work, you'll need to properly indicate the path to the "res_mods" folder in the first line of the paths.xml file.
The following elements have been removed for the 2nd iteration of the public test:
Removed the maps "Winter War" and "Secret airfield". Replays that were recorded on those maps can no longer be viewed.
Empty bomb- and rocket racks now influence the aircraft's flight performance again
Changes between the Version 1.2 and the First Public Test of Version 1.3:
New planes
New branch of American heavy fighters:
Lockheed P-38F Lightning (Tier V)
Lockheed P-38J Lightning (Tier VI)
Grumman F7F Tigercat (Tier VII)
Chance-Vought XF5U Pancake (Tier VIII)
McDonnell F2H Banshee (Tier IX)
Lockheed XF-90 (Tier X)
Improvements and fixes
Added gift camouflages for Alpha, Closed and Open Beta testing members for the following planes: Arado Ar 80, Brewster F2A Buffalo, Messerschmitt Me 209 A, Mitsubishi A7M Reppu, Tomashevich Pegasus, Messerschmitt Me 210, Curtiss P-40 Warhawk, Chance-Vought F4U-1 Corsair, Miles M.20.
Improved textures for all planes of Tier II-IV to make the atmosphere more realistic.
Bombs for the Curtiss Hawk III were changed from American to Chinese bombs.
Fixed a lot of minor bugs in the planes' damage model.
System changes of physics and balance
Visibility system:
New mechanics for enemy camouflage bonus elimination and fast detection when shooting were added. Now the plane will be 100% uncovered/detected within a certain radius when opening fire.
Guaranteed detection upon opening fire - only triggers when a straight line of sight exists and terrain or obstacles don't obscure either aircraft
The radius of guaranteed detection when opening fire depends on aircraft tier and approximately corresponds to the effective firing range of aircraft of this level.
Shooting:
R4M rockets are now being launched in a salvo - 6 units launch at the same time when pressing the "Launch Rocket" button
Consumables:
Premium consumable "First Aid Kit" now gives a short period (5 sec) of invulnerability to the crew after using it.
Power boost for "100-octane Gasoline", "120-octane Gasoline" and "Purified Kerosene" was reduced. Players will be compensated for the lost value.
Locations
New Maps:
Winter War - available for planes of Tier I-V
Hidden Airbase – available for planes of Tier V-X
Achievements
The conditions for being awarded with the following achievements were changed:
"Sky Scourge" – now awarded for destroying at least 3 enemy planes or more (was 10 before).
"Ground Pounder" – now awarded to players who win at least 10 points for destroying enemy ground targets in a battle. (was 30 before).
"Furious" – now awarded for winning 3 or more battles in a row. (was 10 before).
"Die Hard" – now awarded for winning and surviving 2 battles in a row. (was 5 before).
The number on the award ribbon/medal will still show the highest score that you managed to get up to for that particular achievement. The count stops if your aircraft is destroyed.
The display of achievements that have multiple levels has been changed. Now only the medal of the highest rank of a multi-levelled achievement will show up in your overview (i.e. if you have the Galland Medal 3rd class for achieving 3 "Ace" Medals and Galland Medal 2nd class for achieving 30 "Асe" medals, then only Galland Medal 2nd class will be displayed).
Graphics
Automatic determination of the graphics settings:
Now graphics settings are set automatically when you launch the game for the first time (previously - "medium" graphics settings were set as default).
Automatic graphics settings determination will be launched each time you change the computer configuration and the graphics settings may then be changed depending on the test result (this feature can be disabled in the settings menu).
Improvements and bug fixes
Improved explosion effects and new, big explosions were added.
Some effects were optimised to improve performance and fix some visual bugs.
Clouds resources optimisation performed on the following maps: Harbor, Adriatic, Fortress.
Map details overlay scheme reworked for all maps to optimise and improve the quality of rendering.
New post-effect called "Dirty Lens" (which slightly obscures your vision in certain situations) was added on "Very high" and "High" graphics settings.
New camera effects based on the speed of the plane were added (which trigger in situations like dives, for example)
Bug fixes for the camera: boost effects and up-close explosions of anti-aircraft artillery shells at high altitude.
Option to disable the camera effects in the settings menu was added.
FOV (field of view) settings for the game camera were changed. You can change them back to the way they were set in Version 1.2 in the game settings.
Render optimisation performed for planes and moving ground targets.
Bug fixes for collision models of trees on all maps
Fixed the influence that sunlight has on the display of textures on all maps
Bug fixes for 'El Halluf' and 'Harbor' mini-maps
Bug fixes for the tree layout on the 'National Park' map
Bug fixes for the layout of map objects on 'Arctic Region' and 'Fortress'
Training missions
New stage added to the final part of the training mission "Gunnery practice", where you need to destroy a manoeuvring enemy plane.
Terms of the "Dogfight training" mission were changed: Now a player needs a plane of Tier IV or higher to be able to take this lesson.
The first stage of the "Dogfight training" mission was removed.
Sound
Engine overheating sound was changed
Sound of ground targets catching fire was changed
Radio effect for sound messages was changed
Interface
Replays:
Added the option to have the replay perform the exact same camera movements as they happened during the game of the replay that you're watching
Help screen with instructions was added for replays with a detailed description of all functions
The video player now gives you more options on what to do once the playback has finished
The playback control features were extended
You can now rewind through the replay with a progress bar at the bottom of the video player interface
Battle Results Window
Improved "Personal score" tab and "Missions" section
Colour marker for destroyed enemy planes (frags) was changed
Battle Missions:
Improved battle missions window – filters were replaced with tabs and the way a mission description looks when you unfold it into detailed view was reworked
New types of battle missions were added: primary and sub-missions
Other changes and improvements:
Improved interface for the sound settings menu.
Modules characteristics in the tech tree now also display their rating in corresponding tooltips
When you score an assist, the message informing you about this event is now being displayed to all players who were engaged in a fight with the aircraft in question
Tooltips and info windows of many modules (i.e. several guns) now correctly display the modules' characteristics. For example, the game now displays the firepower and number of gun barrels for your (forward-oriented) guns as well as eventual rear-mounted turrets
The description of the equipment part "Self-sealing Fuel Tank" has now been rectified and now correctly says that the item gives +30% to fire extinguishing speed