A fighter manufactured by British company Martin-Baker. It received rave reviews from test pilots but never entered mass production due to an engine failure during a demonstration of the aircraft. Only one prototype was ever built.
To add this fighter to your collection, you need to execute missions from our special operation order. You can receive this operation order from the event supply crates that can be obtained by completing personal missions during the active phases of the Heart of the Griffon event or purchased for 1,000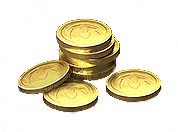 .
A chain of 25 missions awaits you. Upon completing these missions, you'll receive the new aircraft



Martin-Baker MB 5 and other valuable rewards!
Missions
Conditions
Rewards

Mission 1
Win 1 battle
1 day of Premium Account

Mission 2
Deal 55,000 HP of damage
to aerial targets in any number of battles
40 Airframe Elements

Mission 3
Earn 4,000 capture points
in any number of battles
10 Backup Pneumatic Control Assist (Period II)

Mission 4
Participate in capturing 15 sectors
in any number of battles
1 Standard Supply Crate

Mission 5
Receive the Conqueror award
5 Intensive Training:
+300% to crew XP for 2 h

Mission 6
Earn 60,000 personal points
in any number of battles
40 Mechanical Parts

Mission 7
Destroy 120 aerial targets
in any number of battles
10 Advanced Engine Boost Mixture Injection System
(Period II)

Mission 8
Destroy 200 sections of ground targets
in any number of battles
10 Fire Extinguishing System
(Period II)

Mission 9
Receive the Expert Pilot achievement
1 Supply Crate

Mission 10
Receive the Thunder award
5 Procurement System Improvement:
+150% to credits for 2 h

Mission 11
Destroy 70 air defense aircraft
in any number of battles
10 Emergency Engine Restart System (Period II)

Mission 12
Earn 5,500 capture points for destroying
ground targets in any number of battles
30 Weapon Parts

Mission 13
Destroy 25 enemy bombers
in any number of battles
10 Emergency Medical Kit
(Period II)

Mission 14
Receive the Guardian award
1 Supply Crate

Mission 15
Receive the Akamatsu Medal
5 Upgrade Implementation:
+100% to aircraft XP for 2 h

Mission 16
Deal 1,000,000 HP of damage
to ground targets in any number of battles
10 High-Octane Additive (Period II)

Mission 17
Destroy 50 enemy multirole fighters
in any number of battles
30 Flight Instruments

Mission 18
Earn 160,000 personal points
in any number of battles
1 Advanced Lightweight Wing Frame (Period II)

Mission 19
Destroy 5 enemy heavy fighters
in a single battle
1 Steel Supply Crate

Mission 20
Receive the McGuire Medal
5 Air Reconnaissance:
+300% to Free XP for 2 h

Mission 21
Deal 100,000 HP of damage
to aerial targets in any number of battles
10 Emergency Engine Cooling (Period II)

Mission 22
Earn 6,500 capture points for destroying
ground targets in any number of battles
15 Heat-Resistant Parts

Mission 23
Destroy 3 aerial targets with a gunner in a single battle
1 Advanced Uprated Engine (Period II)

Mission 24
Receive the Winged Legend Badge
1 Steel Supply Crate

Mission 25
Receive the Ace award
Martin-Baker MB 5
Hangar slot
Pilot trained to 100%
Decoration set (paint scheme, nose art, emblem)
Heart of the Griffon achievement
5 Upgrade Implementation:
+100% to aircraft XP for 2 h