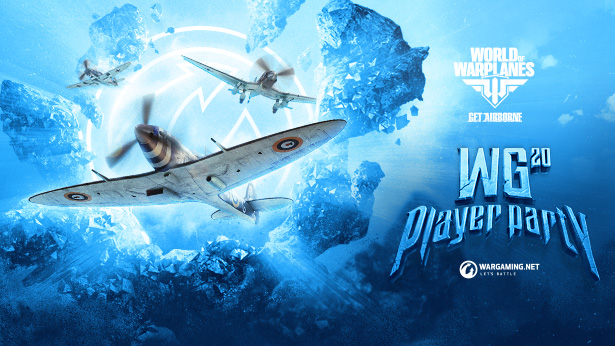 It's that time of the year again! Are you excited for gamescom? We are too! Especially this year!
A few weeks before the festivities, we are happy and proud to announce that the 2018 edition of our now famous gamescom Player Party will celebrate twenty years of Wargaming!
Join us on Thursday 23rd of August for a night to remember in DIE KANTINE, and enjoy the different activities we've put together!
Obviously, if it weren't for you, our loyal fans, we wouldn't have two decades to celebrate. That's why one of the main attractions of the night will be... you!
Indeed, this year our fans will take the stage, quite literally! Whether you're a musician, a fan of Wargaming's epic soundtracks (check the music of World of Warplanes here, by the way), or a Dragon Force enthusiast, here is your chance to share your passion with us, through a musical contest!
We will come back to you with more information about this music contest very soon, but we can already tell you that the legendary power metal band Dragon Force will be part of our jury. What's the prize, you ask? Well, if you and your band win the contest, you'll be nothing less than our opening act for the night!
The second and third best performers will also receive some nice prizes to enjoy, so keep your instruments tuned!
In addition to great music and awesome performers, you'll be able to enjoy gaming stations from your favourite game, a few drinks, and tons of fun activities. To put it simply: a real birthday party!
How do I sign up?
Fill out this registration form!
When is it?
Thursday, 23 August 2018, at 19:30 CEST (UTC +2)
Where is it?
Neusser Landstraße 2
50735 Cologne, Germany
Directions
How to sign-up and get your ticket:
Register on

this page

with all the necessary information.
After the registration phase is closed, you will receive a confirmation email that enables you to claim your ticket.
You can print the ticket or use your mobile device to display the QR code at the venue entrance.
Without a valid ticket you won't be able to attend – please make sure to bring your ticket!
Please note:
The entry for this event is free of charge.

This registration page is dedicated solely to people who are going to physically attend.

You have to be 18 or over to participate.

Pre-registration is required.

The amount of tickets is limited – so make sure to sign up as soon as possible!
See you in Cologne, Wargamers!