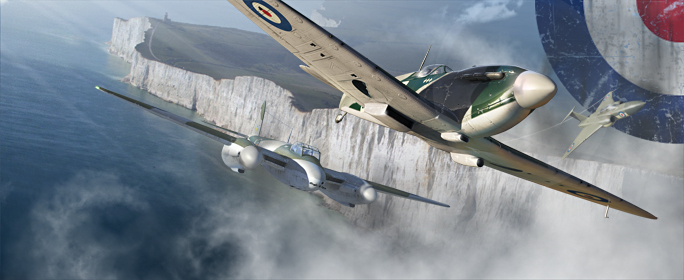 The British Planes Are Coming
The time is here! British aircraft are coming to World of Warplanes. Undoubtedly one of the most eagerly anticipated features since beginning of Closed Alpha over a year ago, the Brits are finally set to make their appearance in the game when the 0.5.3 version arrives.
Two branches full of Fighter and Heavy Fighter aircraft wait to be extensively tested before the final release of the game. How, you ask, when the game's launch-day is already so close at hand? With a little trick, of course! Thanks to a drastically reduced research and purchase price, you don't need to have saved up millions of experience points to unlock these 19 new aircraft. Nothing should stand in the way of you trying out each and every single plane of the new British fleet.
The legendary Spitfire, Blenheim F, Skua and Javelin are all available to play in Version 0.5.3!
New Maps, New Controls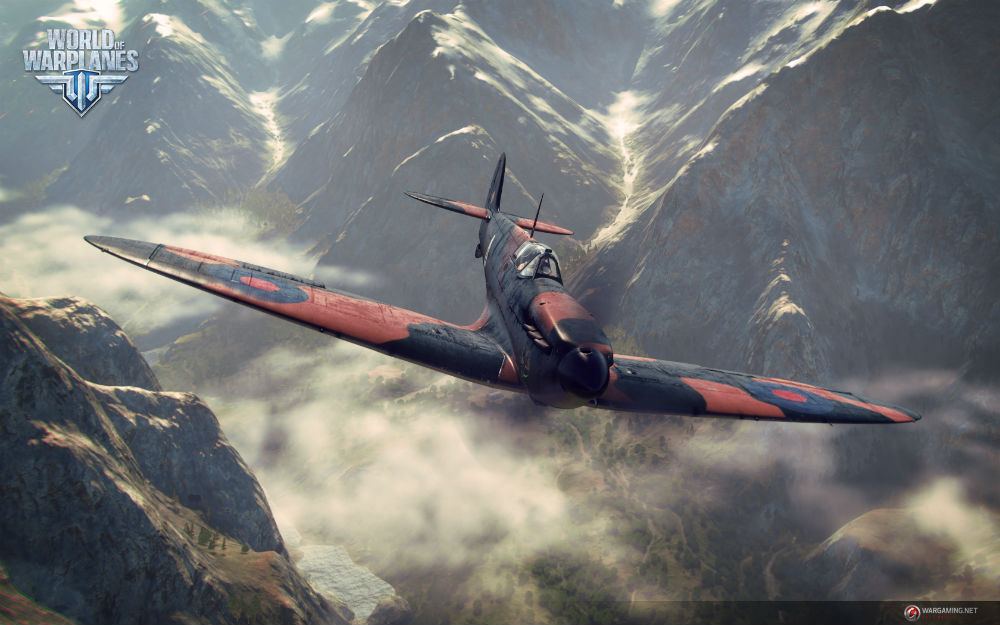 This Spitfire IX soars over the new Fjords map.
The British tech tree isn't all that the new 0.5.3 version has to offer! Two new maps, Fjords and Eastern Front, have been added to the map pool, and are ready to be discovered by brave aerial explorers.
In addition, a new third mouse control variant has been introduced to give you even more choice when finding exactly the type of control that you need to ace your way through the skies.
Tech tree overhaul with less old and more new Premium planes
Expect to see a major overhaul of all the tech trees with the temporary removal of all previous Premium planes from the shop. On the upside, all tech trees have now been aligned to their final release day state and include 10 new Premium aircraft, which will be given to all pilots for free until the end of the testing phase. Plus, if you've already acquired any of the old Premium planes, you can keep them in your hangar and won't lose any of the precious jewels that you've been fighting for.
An 11th Premium plane will be added – the powerful F2A-1. This aircraft will be purchasable in the shop for regular tokens and will exclusively be available only until the release of the game. Naturally, if you buy this Premium aircraft now, it will remain in your hangar and will not be wiped when the game goes live.
To give you another boost in this last testing stage before release, all planes that you've already acquired, will now have all of the available modules already mounted. You no longer need to worry about saving extra cash and XP to get that expensive upgrade that you've been eyeing – it's already there for the taking.
More Crew Skills, More Achievements
Expect to see the introduction of new Crew Skills to go along with the simplification of the type of crew members you can employ.
A big influx of fresh achievements will allow you to chase even more challenges during your stints in the skies. From now on, you'll be rewarded with honorary stripes and medals to be proudly displayed alongside the regular achievements in your overhauled player profile.
…and so much more!
As soon as you log in, you will see that we now refer to Carrier-based fighters as just regular Fighters. This should facilitate understanding and simplify the classes for the future. Also, almost every single plane has been retouched to account for the introduction of the British tech tree and to improve balance throughout all the available nations. Overall render quality, tutorials, game locations, targeting algorithms, interface layouts, camouflage functionality and many more features have all received major work to polish the game and iron out some last drawbacks.
You can find the full list of changes in the Release Notes section.
Check out Version 0.5.3 and have fun with the British planes, Pilots!