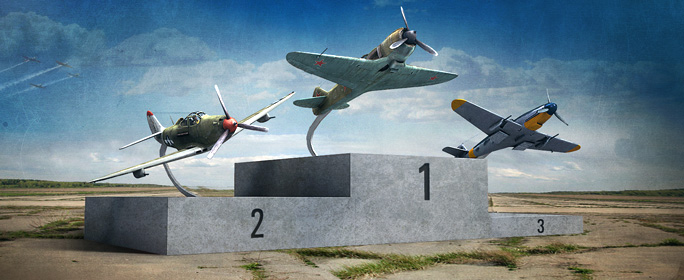 Good day pilots and prospective recruits alike!
We recently ran a simple creative contest where we invited players to send in their texts of 100 words or less explaining why they should be awarded access to the World of Warplanes Closed Beta Test.
After several days of accepting submissions, we had received over 450 entries! The judging panel had plenty of tough decisions on their hands in narrowing the number of "successful" texts down to approximately 220 winners!
These winners were all sent individual access codes for the Closed Beta on Friday 22 June, a week after the conclusion of the contest itself. However, we wanted to take the opportunity to publish some of our favourite submissions here for you all to read.
Below are just ten of the most entertaining and engaging examples received. We have posted the rest of the 'Top 40' entries in a dedicated forum topic, so don't hesitate to check them all out!
Finally, the original results announcement posted on Friday 22 June contains a full list of all the winning participants.
Name

Entry

Hello,

My name is Logitech Attack 3.

I am a joystick.

I am writing to you from my owners PC while he is away.

I was bought for the sole purpose of playing World of Warplanes a couple of months back.

Every day that passes and he doesn't have his beta access he grows more and more grim, and it has come to a point where he is threating to break me and throw me in the trash.

Please for the love of god give him an invitation.

Have to go he is coming back…

Save me from…

- Do you want to feel the action?! - shouted the TV - Do you want to feel the adrenaline rush?!

- Well, I'd like to, but I'd also like to see something more than that... - I replied to said TV.

- Finally your prayers have been answered! For here comes the great and amazing World of Warplanes! - talking box continued.

I raised my eyebrow and leaned forward to see better what's on the screen. When I saw WW2 planes flying high in the sky I realised something.

I realized that I must play that game,

Why I should be in World of Warplanes closed Beta.

Obviously I am the man for the job.

Ready for take-off is what I am.

Love is what I have for aviation

Dogfights are what I live for.

World of Warplanes is the most exciting thing on the internet.

Amazing is World of Warplanes.

Really excited to test this.

Please let me in to Beta!

Long have I waited for this.

Awesome are my testing skills.

Never have I been so ready to test a great game!

Every spare second I have will go towards testing.

So much to test!

Hello, I got nice little garden where I grow some nice vegetables. So I think that getting me into beta World of Warplanes will help me develop skills so one day I will be ready to spray fertilizer using airplane precisely over my little garden so vegetables will grow even better. If you fullfill my wish, I am ready to share some of my best pumpkins with you (you can get them for Halloween). Thanks for reading :)

Of all the elements to be in, the air is the one I prefer the most. The great view, the utter freedom of movement; to me, flight is liberty. I also like warfare, I can't deny it. It has me fascinated to no end and I always wish to learn more of the art. Warplanes are an interesting combination of my interests. The perfect engineering required to keep the massive steel birds hanging weightlessly in the air is just amazing, and the limitations of the field means that even today, speed still retains an unique advantage over heavy armour.

No wrong way with World of Warplanes. World where wars in the wind are waged. World of wings and weapons, world of war-whoops and wailings, world of winged wizzards and witty wingmen, world of worthy winners and wild warriors. Who was wasted, who is weak, who will win – warplanes won't wait. Word to the wise - wax wings won't work. Why I wrote these words while wrestling with all the Ws? Wanting to be welcome to this wonderful, worldwide, worshipped world of warplanes – the wish of this wannabe wind wolf, waiting, watching, wishing, warming up...

Personal files

Name: Adam

Surnama: Kowalsky

Age: 26

Date of birth: 6, 6, 1986

Place of birth: Worsow, Poland

Rank: Sargent in 8th Air Force, Barksdale, Louisiana

The history of military service:

After joining the Air Force displayed a skill and cleverness of an experienced fighter pilot. Unfortunately, his stubbornness and lack of discipline has locked him an opportunity to further career development.
Award-winning for his contribution, unfortunately, have also repeatedly been punished.

Recommendation:

Transfer to a newly created special unit WoW.

The Wonderful Thing About Warplanes.


The wonderful thing about Warplanes,

Is Warplanes are wonderful things,

Some of the first ones were made out of Canvas,

And were operated with strings.

A feeling so right,

Whilst being in flight,

Getting closer and going to guns.

Why would I like to be a World of Warplanes Beta Tester?

Because it looks bloody good fun!

Nobunaga took a sip of his vodka and looked through the offer.

The visitor had put an expensive looking briefcase on the desk in front of him.

The job was easy, included a first class trip to the Bahamas and a bucket full of money.

Nobunaga had already made up his mind.

He shoved back the briefcase and turned to his monitor: "Sorry, but I have a crucial task here that can not wait."

Before turning to leave, the visitor opened his mouth, but his words were drowned by the deafening sound of roaring propellers and a 20mm gun.

Five friends, sitting round a table discussing gaming achievments,

friend 1, "My Warlock is now lvl 85".

friend 2, "My space pilot has 100 million skill points".

friend 3, "My IS7 is topgunner".

friend 4, "My freetrader is lvl 50".

The fifth friend rocks backwards and forwards on his chair, shaking and mumbling to himself, then he takes a drink of Whiskey and says "After the 10th time of dying, i sent my first bug report".

CAN YOU SPOT THE BETA TESTER?

It helps to bring humour to an important job and this is what i will bring.......... and whiskey.
Thanks to everyone who took part! Stay tuned for more contests and ways to win Closed Beta access in the future!