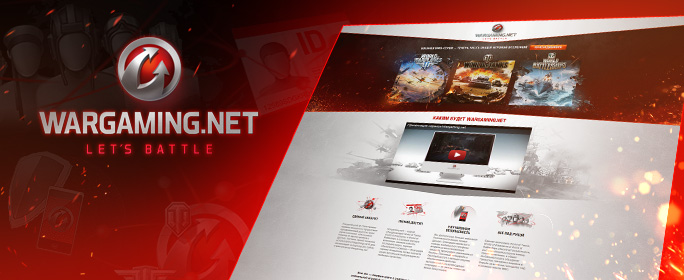 Wargaming.net is constantly striving to bring about the best gaming experience for all our players, and today it is our great pleasure to announce that we have reached another milestone in this journey.
We would like to introduce to you our latest project – Wargaming.net Service.
With this new service, we take a step closer to realizing our ambition of uniting the millions of players around the world with one common interest, and that is a love for strategic war games.
This will be the general entry source to all of our game titles and services and it will assist you in connecting with us in a simpler and more convenient way. It will lead you to your respective regions according to your location and provide you with the latest updates and news by granting you easy access to partner and fan websites dedicated to the projects by Wargaming.net.
In short, the key features of the globally integrated Wargaming.net Service will include:
SINGLE ENTRY POINT
Wargaming.net becomes your personal portal to explore World of Tanks, World of Warplanes and World of Battleships, all united under a single gaming service. Read hot news, watch the latest videos and keep in touch with updates and innovations. Wargaming.net gives you everything you want to know, all at once.
SIMPLE ACCESS
With the introduction of the Wargaming.net ID, you will get a unified account for all services by Wargaming.net. Whatever project you fancy joining, your ID will automatically grant access to all games and applications from Wargaming.net universe. Reaching partner and fan websites will become easier with OpenID authentication.
IMPROVED SECURITY
An improved personal account tailored to your needs will provide optimized schemes for password or login reset, account restoration and bonus-code inputs. Enhanced account security—safer and more hack-proof than traditional models—will feature a security key service tied to a user's mobile phone number, ensuring fast account recovery in case of email address change or theft.
WHOLE UNIVERSE AT HAND
The MMO war series—World of Tanks, World of Warplanes and World of Battleships—will share common economics allowing the transfer of resources between the games. A single global map will gather tankers, pilots and mariners into a common tussle for world domination. And these are just the first steps towards creating a complete and engaging Wargaming.net Service.
Learn more about this service by visiting the new Wargaming.net portal today!
Let's Battle!